In 2020 the IT industry has swiftly switched to working from home. Agile Coaches and Agile Project Managers have had to figure out quickly how to get teams working together remotely. They have the task to keep communication flowing during Agile ceremonies. Some find this hard in-person when you are in a room of introverts but even harder remotely.
The problem is there has no easy graduation into everyone working from home – it just happened over a weekend for most at our company. That said the results are surprising, productivity has maintained and improved in some instances. The way we work has also changed.
List of Meetings for Remote Agile Teams
Remote Design Sessions
Virtual Planning Poker Meetings
Remote Retrospectives Meetings
Fun Interactive End of Sprint Reviews
Our First 3 Weeks Remote
Week 1: IM chat groups and video hangouts at estimation sessions.
Week 2: Everyone started using video showing faces at stand-ups.
Week 3: New collaboration tool for estimation & retrospectives.
These 5 tools have helped more than triple engagement and they can help you and your teams too…..
Remote Design Sessions
Design sessions are probably the hardest session to get collaboration effectively. To date the most successful meetings I have attended required the expert project manager in charge to do a lot of prep work and have strong facilitation skills. The Silent Meeting technique mentioned next helps explain what you should prepare.
If you are having trouble with virtual brainstorming check out this post!
For design sessions in-person they are around a whiteboard. Anybody can draw on the whiteboard, add post-its and see the big picture by taking a step back. The best tool to simulate this is I have used so far is Miro. Next week we are holding our first virtual planning week all around miro so will provide a further update after that.
What I like about Miro it enables collaboration proactively that simulates live in-person activity. It comes with a number of ready-made templates such as the wire-frame example below. The best things its FREE for 2 boards!!!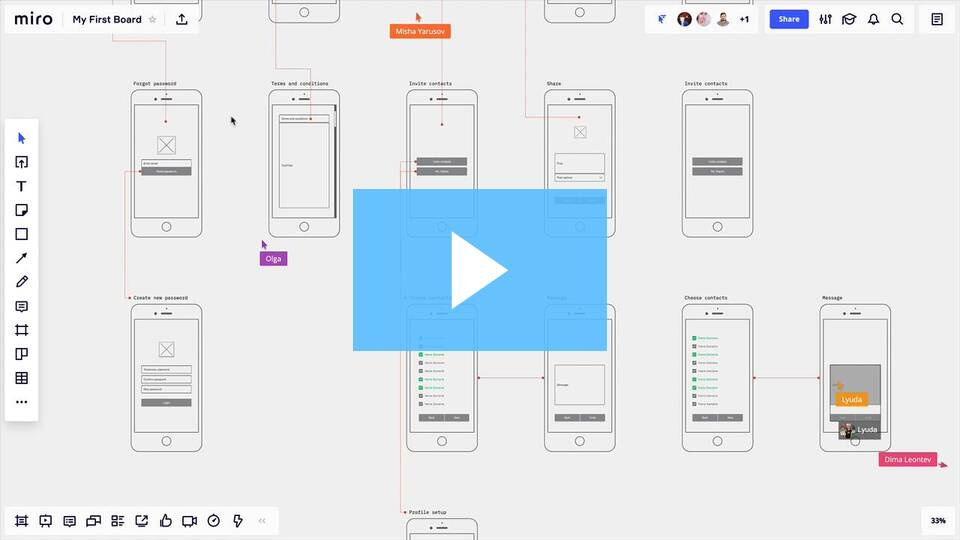 Free Wireframe Template | Online Wireframing Tools | Miro
Silent Meetings
Have you heard of the press release technique used at Amazon?
Have you heard of the press release technique used at Amazon?
Where everybody reads a prepared document at the start of the meeting in complete silence. That was the start of Silent Meetings, this article on silent meetings is a book in a blog post. It covers everything you need to know to successfully hold your own silent meetings and try to use everyone working from home to change behaviour within the company.
It gives everybody an opportunity to get their opinion across in a remote setting (as well as in-person). The blog post highlights requirements, artifacts you need to prepare and best practices.
Virtual Planning Poker Meetings
The main issue with using instant messaging apps for planning poker is people copying each other. Mainly because they didn't to stand out and be questioned and ave to defend themselves. We started to use a tool where the results were all shown together. Its a tool called pointing poker (aka planning poker)! An online, virtual and co-located agile teams use this application during their planning/pointing sessions to effectively communicate points for stories.
I really enjoyed this tool and found it very effective. It's not very pretty but it doesn't have to be as it does exactly what you need for a virtual estimation session. Invite users, add their names, select their estimate and a timer for votes.
Remote Retrospectives Meetings
Improve with Fun Sprint Retrospectives 🔥 Collaborate with your remote team and get better in what you do with a simple, intuitive and beautiful tool funretro.io. Fun Retro is easy to use tool with great user experience and easy on the eye UI. All you need to do is setup columns to start discussions and the team adds their cards.
After everyone adds cards, the team get an opportunity to vote on their favourite (you can limit number of votes). After everyone has voted you discuss the top items and determine actions.
Fun Interactive End of Sprint Reviews
End of sprints can be a bit of a bore at the best of times so why not add some interactive element to the review. Using https://kahoot.com/business/presentations/ you can add questions and make the presentation interactive. Its very easy to use and all people need to do is navigate to a website url and submit a gamepin on their phone. Which is great by itself adding a physical element where people need to actually do something physical and the gamification adds the fun part of the review. It has a live leaderboard – with me coming in 4th the highlight of my day from a usual boring uneventful work from home day.
Conclusion on Remote Agile Meetings
Switching to remote has had a few bumps along the way but with virtual tools, it has made the transition a small bit smoother. Probably the one tool that does help with the transition from life to virtual is the use of video and the majority of sessions has encouraged people to switch on cameras. 99% of the meetings we have are using Zoom or Google Hangouts. Having moving faces helps a lot and should be encouraged the majority of the time. Having good lighting makes it a bit easier for others so try to reposition your work desk if you can.
Finally, I think its time to embrace the working remotely even when this is all over it will not be the same and this could be the new normal for some companies. Gone are the times associating working from a home easy day off to put the feet up – if anything this has proven that people working from home are more productive but maybe just not for such long period of time.